Autumn Session :
Meets the weeks of September 18th – October 27th
Registration Is Now AVAILABLE!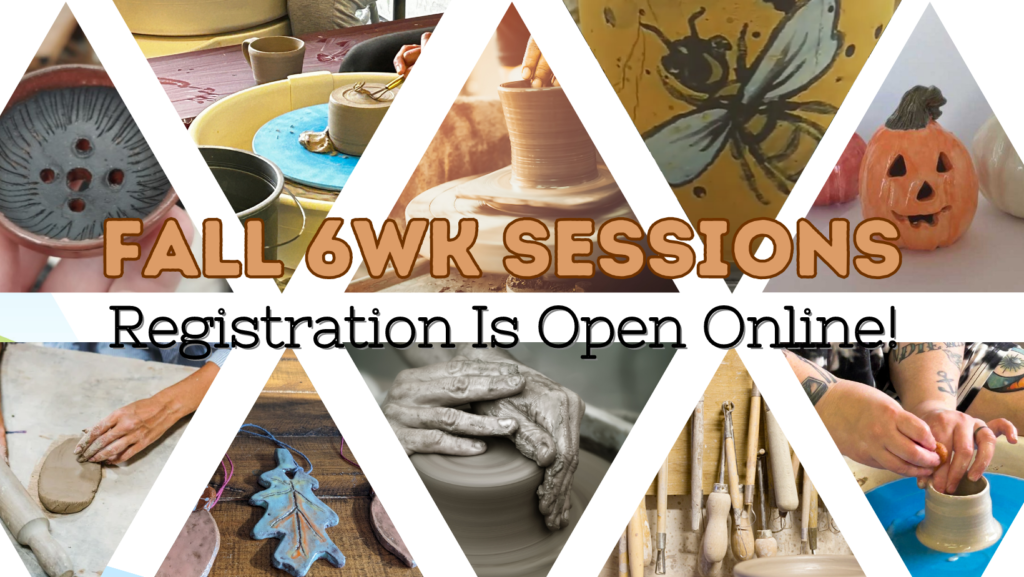 Be sure to follow us on Facebook and Instagram as we release exclusive information and photos in the build up to our Fall six-week sessions!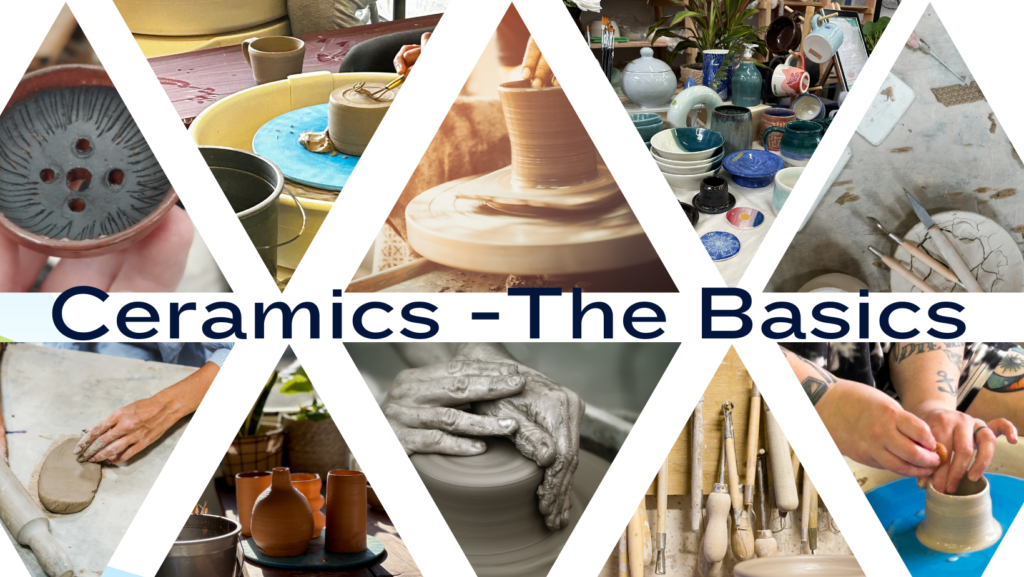 Dive into the world of ceramics with this 6 week course covering all the basics! Focusing on one to two skills each class, your instructor will take you through wheel throwing, hand building, carving and trimming leather hard pieces, adding decorative/useful details – handles, spouts, lids. Additionally the last class will cover glazing and underglaze application.
Instructors: John Masallo, Alex Murray, Lacie Warden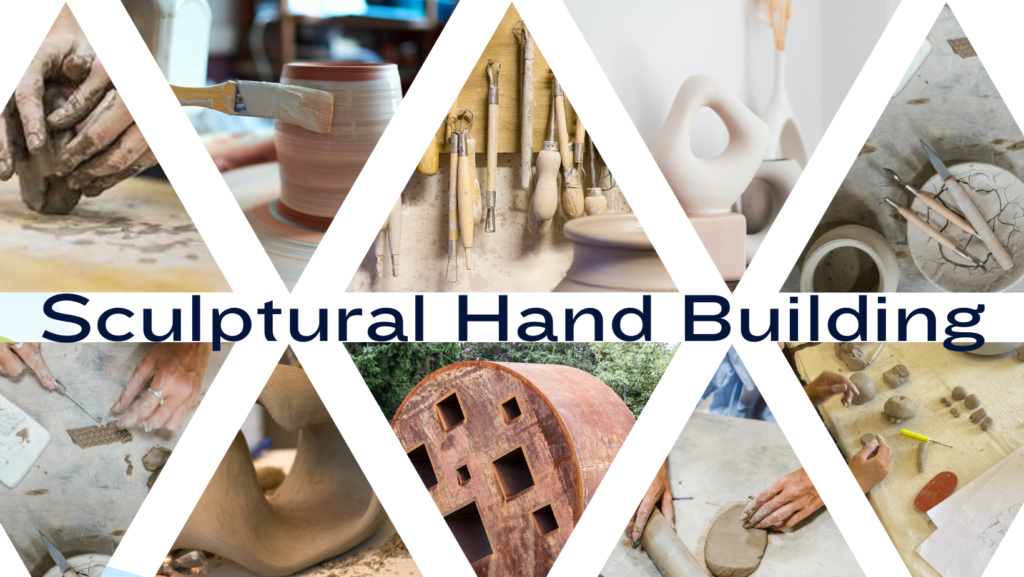 Students will learn various hand building techniques to make abstract sculptural pieces. Specific skills taught include pinching, coil building, slabs, and extruding. We will also explore different methods of planning and conceptualizing projects by using paper templates, sketches, and photographs.
Instructor: John Masallo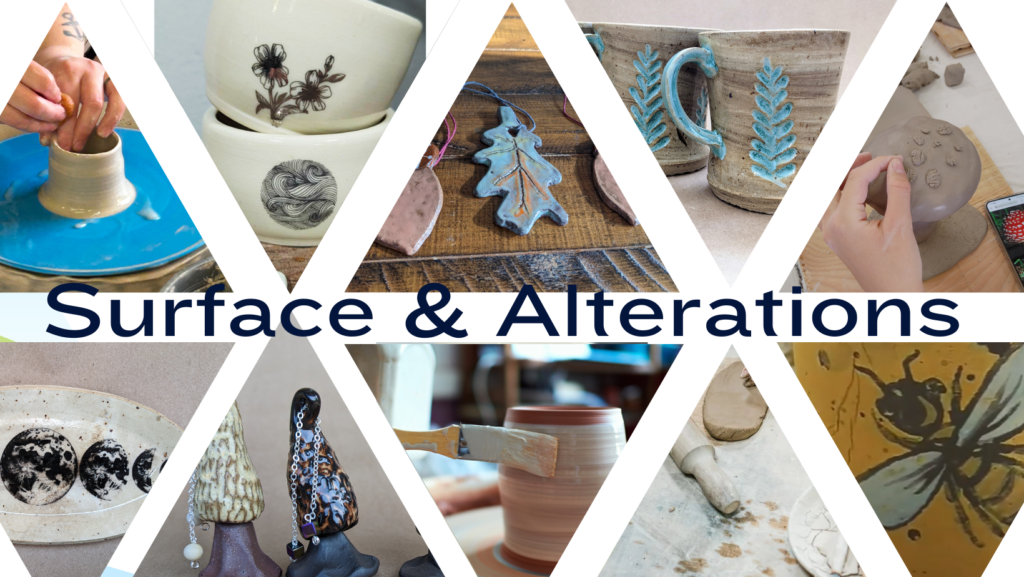 Students will level up the appearance of their pottery through different surface and alteration techniques. Both wheel and hand-building projects will be created to fully explore the endless options of decoration with slip, transfers, decals, and texture. Novice and intermediate students are welcome. Techniques students will learn include: Slip trailing and underglaze transfers, glazing techniques (bubble, marbling, pouring & splatter), overglaze decals, sgrafitto, & water etching.
Instructor: Lacie Warden

Its time to bring that favorite comfy sweater back into rotation and embrace the changing of the season, in our autumn centric hand-building sessions, students will engage in a multitude of themed workshops that will take the best parts of the season and incorporate them into the world of ceramics. Projects will run the gambit of pumpkins and leaf designs into spooky and not so spooky creatures….
Workshop Highlights:
Sgaffito coasters & mugs
Mushroom jars and Autumn spoon rests
Jack O' lanterns & pumpkins
Haunted house tealight holders
Students ages 12+ years old can participate with enrolled adult also in attendance
Instructor: Meg Frost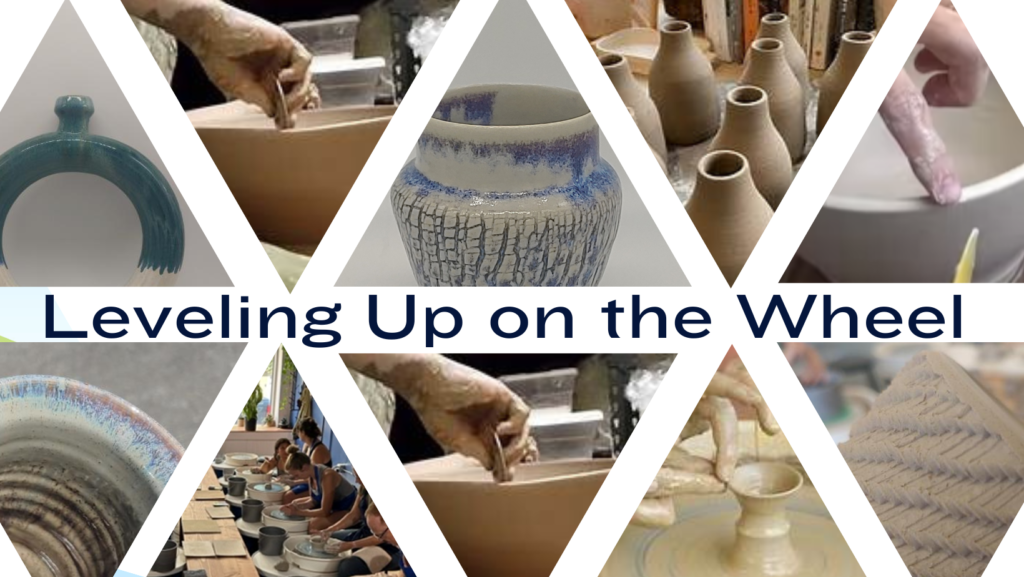 Our ceramics wheel 2.0 – is designed to expand upon all the knowledge and techniques learned in our introductory wheel sessions and take your throwing skills to the next level. Throughout the six-week course students will hone their skills to confidently throw with greater consistency and height while introducing new forms and projects to master. Students will explore: Intermediate glaze theory and techniques, donut forms, oxides, and more complex trimming techniques.
Instructor: Alex Murray
Details:
Workshops meets scheduled day + 5 following weeks at same day of week and time
(this enrollment encompasses all six days)
No prior clay experience necessary
Price includes all required tools, 25lb bag of clay – various types, glaze & firing
Cost: $349 for 6 week session
15 hours of instruction/ studio use
Ages 18 and older
Available for students ages 15 – 17 with an enrolled adult also in attendance.
Makeups: Please do not miss the first class session – there are so many important details shared during the first class. Misses throughout the session can be made up using open studio hours for additional studio worktime, your instructor will not be present during this time.