Alternative Firings
Join in on the excitement of Alternative Firings
Schedule a time to experience the process of creating with raku clay and/or firing your bisque pieces in our Raku kiln or barrel firings!
Whether you are an SP member or member of our artists community, all are welcome. Please read below for details of how to get involved in a Redmond firing.
Barrel & Raku Alternative Firings
Come prepared with up to 4 bisqued pieces of work to prep and fire in the primitive barrel or raku firing methods. You can put pieces in both firings during this special combo firing workshop!
Barrel – Using all manners of organic and chemical materials, we'll wrap our pots in foil saggars and then light them ablaze to activate wild colors and unpredictable patterns with unique results.
Raku – paint your bisqued pieces with a selection of provided raku glazes to give shiny stunning outcomes.
Bring your favorite snacks and beverages to hang out by the fire and chat all things alternative firing while the magic happens – and take home your finished pot the same day!
Instructed by Lacie Warden
Cost : $35 – $45 per student
Make your alt firing pieces in a hand building class prior to attending a firing.
All Alternative firings currently take place at Redmond Eastside Pottery – 6826 176th Ave NE A120, Redmond Wa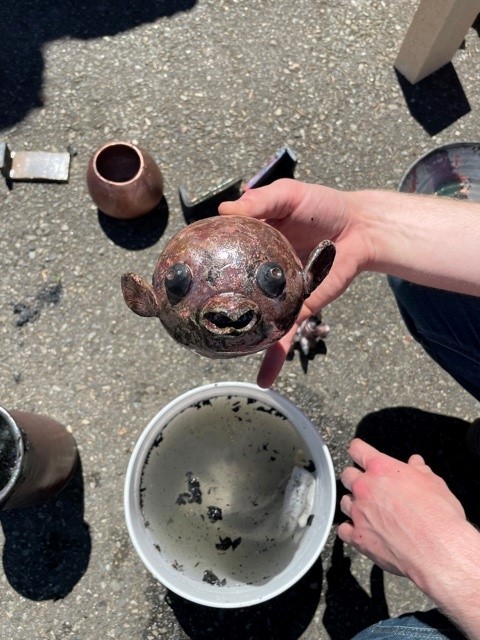 SP Members
Purchase Raku clay from SP studio to make your bisque pieces
– Pipenburg and Raku 2 clay bodies are recommended or any Raku clay body
You can use your studio time to make projects
Items must be ready for bisque firing at least 5 days before raku firing to allow for initial firing
Pieces can be glazed with our Raku specialty glazes day of workshop
Community Potters
If you have a home studio – please create pieces and complete your initial firing before arriving to your Raku workshop
Firing services are available at Redmond Art Works
We have a selection of SPS Raku specialty glazes for you to glaze day of – included in cost of workshop
First Time Raku Students
Never worked with clay but want to give it a try?
Seatown Pottery offers time on Wednesdays and Saturdays for the community to come in and work with clay. We will provide beginning guidance, the tools needed to make your initial Raku forms, and provide the first bisque firing during scheduled open studio time
First – Schedule a Raku Hand Building Workshop or Schedule an Open Studio Visit – book a table to clay hand build – Open studio costs $15 per student per hour and includes the cost of firing pieces created in studio. Clay is sold by the pound.
Second – Book a Raku Firing Workshop above- on day of firing, you can glaze (paint) your raku pieces and go through the firing process! Your pieces will be ready to take home that day.
Raku firing are available for students 9 + years of age – all students younger than 16 must have a participating adult present during the entire Raku workshop
All Alternative firings currently take place at Redmond Eastside Pottery – 6826 176th Ave NE A120, Redmond Wa